Unhappy with your existing Energy Supplier?
At the moment most energy suppliers will not recommend switching providers due to the energy price cap meaning there are no real financial benefits to you for switching energy provider. However, as I was unhappy with my existing provider due to poor customer service and failure to provide a bill for the past 6 months I felt it was best to move away and if you use an Octopus referral code you can currently get &pound50 credit. I also had issues with my previous energy suppler's mobile app which meant I couldn't accurately see gas usage coupled with the lack of an up to date bill and rising energy costs it was impossible to budget. I wrote to my existing suppler to complain regarding both the issues but after not hearing anything back after a month, I decided to move away from this supplier but discovered many suppliers were 'discouraging' switching.
So how can you switch energy during the price cap? Follow this guide and you should be able to switch to Octopus Energy and get £50.00 credit on your account using my Octopus referral code for completing the switch if you jump through some hoops, although it might not actually be that complicated now as Octopus Energy have switched on online quotations again. For the quick way -> Simply follow this link to use my Octopus referral code https://share.octopus.energy/soft-owl-525 that will give you £50 credit on your account once the switch is complete. Of course, if you are on an existing deal and not the current price cap, then really you should stay where you are as moving onto the price cap could mean you pay more and may have to pay a penalty for terminating the contract early with your existing suppler.
Still want to switch? See below to find out more about switching to Octopus Energy and getting £50 credit using my Octopus referral code.
How can I switch energy supplier to Octopus Energy?
Searching around online I found most if not all energy companies won't even offer the option to quote online let alone make a switch. I had heard great things about Octopus Energy with regards to customer service and since the energy price cap means I can't be worse off my main goal was to resolve customer service issues I had experienced with my existing energy supplier this is the direction I wanted to go. Again, I found that Octopus was also 'discouraging' consumers to switch online or at all, but it is not impossible.
When you go online to Octopus Energy and ask for a quote, you are greeted by a message stating "Energy prices are at record highs, and most homes will be better off staying with their current energy supplier right now." Down nearer the bottom of the page underneath the "Yes, please email me", there is an option to select "I've read and understood the above and I would still like a quote to switch to Octopus". Even after agreeing with that statement, unfortunately, you are then greeted with a page that still won't let you complete a quote online and of course move on to complete an Energy Switch.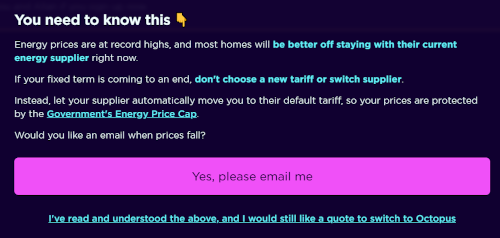 You are fortunately given an option to call to talk to them – DO THIS…….Call Octopus Energy on the number presented (08081693274). When getting through to Octopus tell them that you would like to switch and again the advisor with 'discourage' you to not switch right now due to the current price cap situation. I explained that even though there would be no financial gain to me I was having customer service issues with my existing suppler and of course the fact that I had not had a bill for 6 months either. Your reasons to switch may be different than mine, but do remember that the reason for switching will need to not be financial as there is no gain and you need to understand that as there really is no point in switching to get a better deal. If like me you would like to move to a company with excellent customer service and resolve issues you may have with your existing supplier then continue to ask to switch because of those reasons.
I insisted that I still wanted switch even though I understand there would be no financial incentive due to the price cap. I explained that Octopus Energy has much better customer service than my existing supplier I would still like to switch. The advisor then agreed to send me a special link to my email that would allow me to get a quote from them. When you get the link in your email which is specifically for you, you can then click on it and get a quote from Octopus Energy. Providing you are happy with the quote then you can initiate the switch and look forward to much better customer service.
How do I get the £50 credit for switching?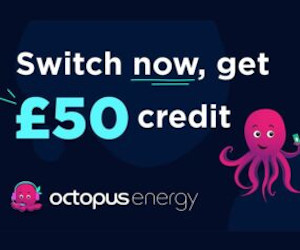 Your online account needs to be setup which is done during the online switch process and you can then enter my Octopus referral code (soft-owl-525) in the correct section online. I can't see this now as I used one myself and I am now fully switched so you must do this before the switch completes but do it straight away and then there will be no issue. That's what I did with my friends Octopus referral code. Look inside your online account once setup and there will be a section that you can enter the Octopus referral code above. Perhaps there might be a section to do this when completing the switch online application but I can't remember. Importantly, you can do this once your online account is setup but must be before the switch completes. You will get your credit paid once you are on supply and your first month's direct debit has been successfully taken.
How did it all work out for me?
This was the best switch experience I have ever had experienced and took just two days for both electricity and gas! This normally takes weeks or in some cases months so I was either very lucky or Octopus Energy is very efficient and I do also have a smart meter.
I have since contacted Octopus Energy by email as the gas usage was again not showing even in their mobile app. Must have been the same error that my previous supplier was experiencing. This time after contacting Octopus Energy I did get a response. Granted, it took about a week for them to respond but I did expect it to take a little while as Octopus Energy like all energy companies are experiencing a busy time. What I can say is that they came back to me and also fixed the issue so I am really happy with this energy supplier and can highly recommend them.
And finally -
If you do decide to make the switch, don't for get to use my Octopus referral code https://share.octopus.energy/soft-owl-525 that will give you £50 credit on your account providing you get it entered into your account before the switch completes. Just to let you know I also get £50 credit for referring you but that seems fair right? My friend got their £50 and importantly I got mine too! Also, the government energy payments continue to be paid automatically and are credited directly to your Octopus Energy account.